Launched in 2021, the #WeGotThis programme returns for the third year to equip youths with skills and knowledge to lead meaningful digital advocacy campaigns on sustainability.
This comes after the success of #WeGotThis over the last two years, which has inspired over 1,600 youths, through master classes and boot camps to launch more than 60 successful social media campaigns.
This year's expanded programme includes a virtual festival for participants from all over the world as well as an in-person campaign clinic in Singapore for all Singapore-based and ASEAN youths, followed by a 10-week incubator programme.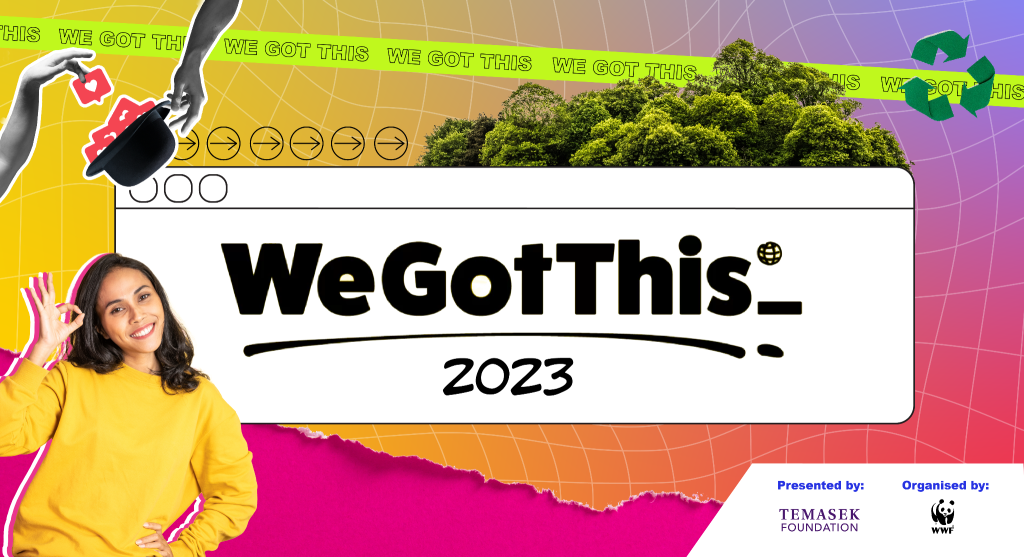 SINGAPORE, 16 May 2023 —WWF-Singapore (World Wide Fund for Nature Singapore) announces the launch of the third year of #WeGotThis, a global youth sustainability incubator programme presented by Temasek Foundation. This year's programme will equip youths in Singapore and ASEAN with the right skills and know-how to successfully utilise social media to advocate for change and create impact in the ever-evolving and increasingly important field of sustainability. 
Designed for youths aged 18 to 30, #WeGotThis 3.0 will consist of two components. These are a three-day in-person campaign clinic and a ten-week incubator period focusing on the following themes: circular economy, net zero, biodiversity and sustainable finance. During the campaign clinic, up to 90 Singapore and ASEAN youths will gather in Singapore to attend talks, participate in group discussions and brainstorming sessions. The clinic aims to nurture the participants' social media campaigns to be as launch ready as possible. The sessions are designed to facilitate the exchange of ideas between ASEAN youths, offering participants a holistic understanding of sustainability issues facing the region. 
The campaign clinic is followed by the ten-week incubator period where youths will be mentored by industry professionals and pilot their campaigns ideas in real-life. This is where they will gain tailored guidance on how to troubleshoot their campaign messages, improve their science communication and build a community-led initiative on various sustainability issues of their choice."Engaging youths to become future sustainability leaders is crucial, as their actions today will shape the world they inherit tomorrow. The redesigned #WeGotThis initiative this year is geared towards maximising engagement and impact, offering new activities such as the #WeGotThis Fest and an in-person campaign clinic. The clinic will bring together delegates from ASEAN and Singapore, creating a platform for collaboration and knowledge exchange. By fostering international connections and facilitating the sharing of knowledge, we can strengthen collective efforts towards sustainability for the well-being of both people and the environment." said Mr R. Raghunathan, CEO, WWF Singapore.Programme Highlights #WeGotThis Fest is the first phase of the programme and will be held on 24 and 25 June 2023. Open to participants across the globe, the two-day virtual festival features expert speakers who will share learnings on advocating sustainability issues, digital communications and community-building across the various online sessions. Campaign clinic will take place from 1 to 3 September 2023 where 90 youths from Singapore and the ASEAN region will gather in Singapore to develop and ready their digital advocacy campaigns for launch. Following a practicum-based pedagogy, the clinic will consist of talks, group discussions and ideation exercises, daily deliverables and proposals, as well as personalised consultation with industry experts on campaign feasibility. Incubator programme will take place from 4 September to 10 November 2023. Across these ten weeks, youth participants will be paired with industry mentors from the fields of sustainability, digital marketing and community building. This partnership will allow participants to receive specialised advice and guidance from these industry experts, contributing to a more holistic experience.At the end of the programme, participants will graduate with the necessary skills equipped to build a digital following, influence peers and the larger community, and drive ground-up change via their own social media platforms.Jodie Teresa Monteiro, one of the winners for Best Creative campaigns from #WeGotThis Class of 2022 speaks about her experience: "My experience with #WeGotThis helped me to realise that there are so many facets of sustainability to explore that can potentially add more value to my campaign. Instead of just focusing on one aspect of sustainability, it widened my perspective on various issues and allowed me to have a more comprehensive understanding of how I can use my campaign to drive a bigger and deeper impact. I especially found it useful to have a mentor who was willing to help me figure out the direction I wanted to drive with my campaign, and one who gave me practical tips and advice on how to proceed wisely." Jodie is now working as a Community Engagement Assistant with WWF-Singapore on #WeGotThis Class of 2023 programme.
Interested participants who wants to be a part of this year's #WeGotThis in-person programme can find out more via wwf.sg/wegotthis/
For media enquiries, please contact:
Han Toh
Grayling for WWF Singapore –  #WeGotThis  
WWF@grayling.com
For all other enquiries, please contact: 
wgt@wwf.sg
About WWF-Singapore World Wide Fund for Nature (WWF) is one of the world's largest and most respected independent conservation organisations. WWF's mission is to stop the degradation of the earth's natural environment and to build a future in which humans live in harmony with nature As one of WWF's international hubs, WWF-Singapore supports a global network spanning over 100 countries. WWF-Singapore works closely with local stakeholders towards a greener and more sustainable Sin
gapore and the region around us. We work to address key conservation areas, such as climate change, sustainable finance, deforestation, illegal wildlife trade, marine conservation, and sustainable production and consumption, through collaboration, education and outreach efforts involving the community, businesses, and governments. For more information, please visit wwf.sg.Annex A
#WeGotThis 2023 – Youth Incubator Sustainability Programme
Overview of Activities
1. #WeGotThis Fest (24-25 June 2023)
A two-day virtual festival where four speakers will conduct master classes on topics ranging from sustainability to social media advocacy and alumni will share their #WeGotThis experience, open to participants all over the world.

24 June / 10:30AM – 12:00PM (GMT + 08:00)
Session 1: Mastering Sustainability for a Better Planet
24 June / 12:30PM – 2:00PM (GMT + 08:00)
Session 2: Building your Eco-Brand in a Digital Age

25 June / 10:30AM – 12:00PM (GMT + 08:00)
Session 3:From Passion to Action: Sustainability Advocacy for the Next Generation
25 June / 12:30PM – 2:00PM (GMT + 08:00)
Session 4: Sustainability Squad: Harnessing Community Power for Environmental Action

Interested participants can sign up for the master classes here: https://bit.ly/3MuSPOX
2. Campaign Clinic (1-3 September 2023)
About 90 selected youths from Singapore and the ASEAN region will be invited to attend this three-day campaign clinic

Day 1: Youths will attend a series of interactive talks to accumulate sustainability knowledge in circular economy, net zero, biodiversity and sustainable finance, identifying the problem statement to work on by the end of the day

Day 2: Hands-on workshop to develop campaign objective and messages, developing campaign pitch ideas to present to experts, receiving real-time feedback on their ideation process

Day 3: Field trip to one of Singapore's iconic sustainability industries and a networking evening with industry experts across sustainability, digital marketing and community building fields. The networking evening will also provide the opportunity for participants to meet their mentors in person for the first time, to officially kick start the ten-week Incubator.
3. Incubator Programme (4 September – 10 November 2023)
Following the Campaign Clinic, all 90 youths/groups will be matched with an industry mentor based on interests and skills. These include sustainability knowledge, campaigns management and leadership development.

Curated by WWF-Singapore, there will also be two to three Ask-Me-Anything sessions by expert guests in sustainability, digital and social media, conscious living and community building skills to address immediate challenges of the youth-led movement. In addition, there will be 30-minute Campaign Consultation sessions offered to participants to seek specialised advice from a panel of industry experts ahead of the Campaign Launch day on 7 October 2023.

All participants will be invited to a graduation ceremony in mid-November 2023.