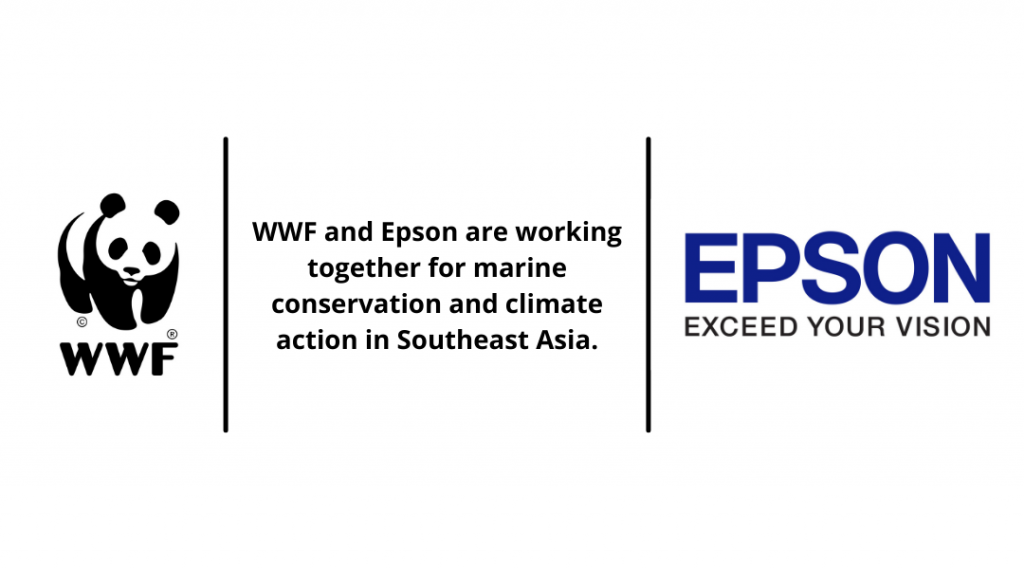 Singapore, 18 March 2022 – Epson Southeast Asia today announced its partnership with World Wide  Fund for Nature (WWF), as part of Epson's commitment to co-create sustainable solutions and  empower communities. The new partnership seeks to scale marine conservation impact and climate solutions across Southeast Asia by working with youths, citizen scientists, as well as businesses and  local communities. 
"Sustainability has been and will continue to be a core focus for Epson as part of our renewed Epson 25 Corporate Vision," said Siew Jin Kiat, Regional Managing Director, Epson Southeast Asia. "Beyond our ongoing efforts to deliver sustainable technology and solutions to our customers and partners, we are extremely proud to be extending this focus on sustainability to the places we operate in by co-creating a myriad of eco-innovative solutions with WWF and local communities to truly make an impact on a greener tomorrow."
Scaling Marine Restoration in and around the Coral Triangle
With over 6,000 species of fish, 76% of the world's coral species and the most mangrove rich areas on the planet, the Coral Triangle is known to be the Earth's epicentre of marine biodiversity. As a key part of Southeast Asia, and extending south towards the Pacific, marine and coastal resources from the Coral Triangle directly sustain the food and livelihoods of over 130 million people, with billions more tracing their food sources back to this region.
Yet, decades of overfishing, unsustainable tourism and urbanisation, and the climate crisis threaten to destroy the critical marine and coastal habitats in and around the Coral Triangle.
This is why Epson is supporting WWF to scale coral restoration efforts in Indonesia, Malaysia, Thailand and Singapore, as well as mangrove restoration in the Philippines. By working with local stakeholders and institutions, these restoration efforts aim to support and restore the critically important marine ecosystem health that we all depend on, while building capacity among local communities as key stakeholders in the long-term maintenance and management of their coastal resources.
Engaging Businesses and Consumers for a Low Carbon Future
Increasingly frequent and catastrophic impacts of climate change are felt keenly in Southeast Asia, with Viet Nam consistently ranked as one of the most climate-vulnerable countries. Traditionally coal reliant, the country's energy sector is now well-poised for energy transition towards renewable sources. Epson will support WWF to influence businesses and consumers in Viet Nam to support the transition towards a low-carbon economy – by establishing a business case for decarbonisation and net-zero goals.
Epson's employees will learn how local communities and businesses have come together in a concerted effort to protect marine ecosystems, save endangered species, and support vital livelihoods and food security for Southeast Asian communities.
Following that, WWF will be working with local Southeast Asia Epson teams to launch education programmes that will include webinars on sustainable consumer spending, virtual museums on reduction of energy consumption and carbon footprint, as well as a forest protection campaign.
"Lasting conservation impact is achieved through collaboration with sincere partners," Mr. R. Raghunathan, WWF-Singapore CEO said, "We look forward to working closely with Epson who are committed to real climate action and to drive meaningful efforts to ensure that conservation of our environment is in tandem with economic empowerment and humans living in harmony with nature."
– End-
Notes to Editors
Details about Partnership Activities
Singapore – Despite the limited sea space and demands on the environment, Singapore's coastal habitats continue to support rich species diversity. However, there remain challenges that require focused solutions. Epson and WWF will support a pilot habitat restoration programme within Singapore's Southern Islands. This programme, led by local partners and the community, will apply lessons learned from past research to restore a degraded reef area. WWF will work alongside the programme to bolster citizen science opportunities, education and public outreach that contributes to the objectives of Singapore's Marine Conservation Action Plan and the Singapore Blue Plan.
Complementing these efforts, Epson Singapore will also carry out a tree planting activity in Kent Ridge Park with business partners and employees to encourage a deeper understanding and appreciation for trees and the importance of preserving them.
Philippines – As a globally significant biogeographic unit of the Coral Triangle, mangrove conservation is of utmost importance for the protection of marine ecosystem services and vulnerable coastal communities. It is estimated that nearly 80% of global fish catches depend on mangrove sites. Moreover, mangrove ecosystems protect coastal communities from wave action and storms, helping to prevent loss of life, property damage and erosion.
Increasingly intense natural disasters, coastal reclamation and overexploitation of resources has led to a deterioration in mangrove sites and consequent rapid decline in fish stocks. More than half of the Philippines original mangrove cover has been lost within the last century. This has significantly impacted the human wellbeing and livelihoods of coastal communities in the area.
As such, Epson will support WWF to work with local communities to restore several mangrove sites in Southern Palawan. Local capacity building efforts will focus on mangrove restoration and protection, including seed planting, monitoring and assessment, coastal resource management planning and more. To ensure the longevity of restoration efforts by coastal communities, Epson will support WWF to establish a Community Learning and Innovation Hub focused on mangrove restoration. This is part of a network that empowers communities to sustain capacity building, share best practices and exchange practitioner knowledge.
Indonesia – Focusing on reef rehabilitation and responsible marine tourism in Indonesia's Alor Marine Protected Area, an important marine habitat that suffered declining coral life due to fish bombing, Epson has supported WWF-Indonesia to work with local stakeholders to develop reef rehabilitation using the rockpile method. The initiative will extend beyond ecological restoration, to engage local communities in improving their livelihoods through supporting dive tourism with restored corals, as well as staff and the general public to increase awareness on Responsible Marine Tourism through virtual activities and social media challenges.
Malaysia – Engaging a local youth environmental group called Mabul Climate Leaders, Epson will support WWF Malaysia to roll out coral restoration efforts using the spider frame method on Mabul Island. Famous as a diving hotspot due to its pristine waters full of marine biodiversity, selected youth in Mabul Island will be trained and certified as Eco divers to plant coral fragments and monitor their growth, as part of wider coral restoration efforts in Sabah, Malaysia.
In addition, to instill a deeper understanding and appreciation of the environment as well as a sense of responsibility to safeguard it, an engagement with Epson employees will take them to an interpretive walk through a trail with rich biological diversity located at Malaysia's Frasers Hill.
Thailand – Since the late 1990s to early 2000s, various stakeholders and communities have transplanted coral fragments to increase coral colonies in the Sattahip district of Chonburi Province, one of the most important high biodiversity reef sites in the Gulf of Thailand. Supporting WWF-Thailand to maintain restoration activities, Epson will help sustain a successful initiative that has made the site a popular learning centre for marine science and conservation.
Viet Nam – To raise greater awareness of climate change repercussions and influence transformative business decisions, Epson and WWF with local partner, Viet Nam's Chamber of Commerce, and Industry (VCCI) will host a series of business engagement events. An enterprise education effort focused on sustainable energy and carbon footprint reduction, Epson and WWF aims to mobilise different sectors and industries towards a low-carbon economy – by establishing a business case for decarbonisation and net-zero goals.
About Epson Singapore
Since 1982, Epson has developed a strong presence across major markets in Southeast Asia and South Asia. Led by the regional headquarters Epson Singapore, Epson's business in Southeast Asia spans an extensive network of 11 countries with a comprehensive infrastructure of close to 500 service outlets, 7 manufacturing facilities and 5 Epson solution centers. http://www.epson.com.sg
About WWF
WWF is one of the world's largest and most respected independent conservation organizations, with over 5 million supporters and a global network active in more than 100 countries and territories. WWF's mission is to stop the degradation of the Earth's natural environment and to build a future in which humans live in harmony with nature, by conserving the world's biological diversity, ensuring that the use of renewable natural resources is sustainable, and promoting the reduction of pollution and wasteful consumption. Visit www.panda.org/news for the latest news and media resources and follow us on Twitter @WWF_media
About WWF-Singapore
As one of WWF's international hubs, WWF-Singapore supports a global network spanning over 100 countries. We work to address key conservation areas, such as climate change, sustainable finance, deforestation, illegal wildlife trade, marine conservation, and sustainable production and consumption, through collaboration, education and outreach efforts involving the community, businesses, and governments. For more information, visit wwf.sg