The impressive island-wide trail sees over 60 global & local artists come together to celebrate this magnificent animal and raise awareness for the challenges facing wild tigers today
SINGAPORE, 24 February 2022 — The World Wide Fund for Nature Singapore (WWF- Singapore)'s AR-mazing Tiger Trail 2022 will take place from Saturday 26th February – Saturday 9th April.
The 3-part island-wide trail zooms in on tiger conservation and other key environmental causes facing the planet today in a bid to use art as a vehicle to educate and spark discussion and action. 33 life-sized tiger sculptures will be exhibited across Singapore, with the iconic decorated cats popping up at the likes of Gardens by the Bay, Jewel Changi, National Gallery, Kampong Glam, The Fullerton Heritage and Sentosa. The sculptures are designed by a collective of internationally acclaimed artists from Singapore and beyond; each presenting a unique perspective on how climate change, poaching and deforestation is affecting tigers in the wild.
The highly-visual, gamified trail encourages visitors to further engage with the sculptures and deepen their understanding of the issues facing tiger conservation through a series of quizzes and Instagram AR filters, which can be unlocked at each sculpture on the trail.
WWF's Tiger Trail is raising awareness and funding to address the unrelenting decline in tiger populations across Southeast Asia. At the start of the 20th century, 100,000 wild tigers roamed the Earth; today, only around 3,900 wild tigers remain and Southeast Asia is where the big cats face the most urgent crisis. Tigers have disappeared from the wild in Cambodia, Lao PDR and Vietnam within the last 25 years, and at current rates, the Malayan tiger could become extinct within our lifetime. The tigers' range has reduced by approximately 95%, leaving populations fragmented and isolated. WWF is supporting on-ground work in tiger landscapes that are home to around 80% of the world' remaining wild tigers.
Beyond the conservation of this magnificent animal, securing tiger landscapes has far-reaching benefits, including the protection of forests which help prevent drought, reduce flooding and mitigate climate change. Tiger landscapes are also home to a multitude of other species such as Asian elephants, orangutans, Asian rhinos, and many more. Further still, by protecting tigers, we are also preserving a cultural and spiritual icon for millions of people across the region. That's why this Year of the Tiger in 2022 is a once in a 12-year opportunity to come together to secure a future for tigers and the vast wild spaces they inhabit – for the benefit of wildlife, people and our climate.
"WWF-Singapore's AR-mazing Tiger Trail was curated to encourage fun and creative discussions and promote education on vital issues facing the wild tiger population today. We are delighted to work with the incredible artists and partners on the AR-mazing Tiger Trail. I cannot wait to see our community interact with the Tiger Trail physically and virtually, and to learn more about the plight of these beautiful, culturally iconic species," said WWF-Singapore's CEO, Mr. R. Raghunathan.
"​​It is always an honour to work with WWF. Our mission to curate the Tiger Trail 2022 was particularly uplifting. My invitation to all the incredible artists, both in Singapore and around the world, was met with huge support and excitement. Bringing art and conservation together enabled the artists to show their passion for protecting this magnificent species. Each unique artwork celebrates the majesty, beauty and environmental importance of the tiger. We cannot wait to unveil the full trail." said Chris Westbrook, Curator and Creative Director of Tiger Trail.
"Together with WWF, we aim to raise global awareness of the importance of tiger conservation efforts globally and across Asia. 2022 marks the Year of Tiger and the tiger also resonates closely with us as a brand identity. The partnership will kickstart sustainability efforts for Tiger Brokers in Singapore and globally. As a global innovative fintech company, we know that sustainability has no boundaries, and sustainability efforts will be a long-term strategy where Tiger Brokers can be a force for good for the environment, society, and community at large. We look forward to joining hands with WWF to explore innovative ways for a better planet." said Eng Thiam Choon, Chief Executive Officer of Tiger Brokers (Singapore).
"This initiative by WWF-Singapore to raise awareness is very much in line with Gardens by the Bay's focus on sustainability in the coming years. As the Gardens enters its tenth year, we will be introducing more programmes for the public with a strong environmental thrust. The Tiger Trail is one such activity that our visitors will be able to look forward to. With eight tiger sculptures displayed at Supertree Grove – the largest collection of all locations across Singapore – members of the public can pick up a free Tiger Trail Passport and embark on their own mini adventure to learn about biodiversity while exploring the Gardens," said Felix Loh, CEO of Gardens by the Bay.
Amongst the locally-based artists involved in WWF-Singapore's AR-mazing Tiger Trail is Yip Yew Chong, a Singaporean visual artist who is best known for his street murals, which depict local life in a whimsical and nostalgic way. His Half-Submerged Tiger can be interpreted in many ways, and serves as a reminder of the impacts of continued deforestation on the tiger and the resulting floods and rising sea levels. From another perspective, the tiger might be seen as enjoying the waters of the Singaporean River.
A series of international artists include the likes of Dave White, a contemporary British Artist who dedicates his work to celebrating popular culture and interpreting emotive issues. Dave has featured Tigers in his work for the last ten years, highlighting their plight as an endangered species. Dave incorporates 24 Carat Gold Leaf into his sculpture to create movement and add a realistic quality to the work, whilst highlighting the scarcity and precious existence of the tiger.
Phannapast "Yoon" Taychamaythakool is a Thai artist and illustrator who tells personal stories through drawings of animals and flowers. With a focus on colours and detail, Phannapast is inspired by her surroundings. Her tiger sculpture depicts the shadow of a tiger, which represents all living animals on earth. Brightly coloured butterflies connote the Butterfly Effect and the impact that human behavior has on wild tigers.
Throughout the course of WWF-Singapore's AR-mazing Tiger Trail, a series of workshops and activities will provide further opportunities for engagement and education. Highlighted events include art workshops by Temenggong Artists-in-Residence, during which participants can enjoy T-shirt decorating, mask painting and pottery sessions. Paid AR-mazing Tiger Trail tours will be on offer through the Civic District and Kampong Glam; guides will share deeper insights into the trail and sculptures of these specific areas, as well as how the AR-mazing Tiger Trail is benefitting tiger conservation.
A series of workshops will offer the opportunity to upskill in terrarium making, coffee grounds upcycling, orange peel upcycling and more. A portion of ticket prices for all paid activities will be donated to supporting the WWF-Singapore's AR-mazing Tiger Trail cause.
Marking the conclusion of the trail, WWF-Singapore, together with Sotheby's, will launch an online auction from 12th – 26th April 2022. The auction will offer collectors from around the world the opportunity to take ownership of one of the incredible, life-sized sculptures that formed the AR-mazing Tiger Trail.
Aside from visiting and engaging with the trail itself, a range of specially designed Tiger Trail Merchandise is available to purchase through the WWF-Singapore's E-shop. All proceeds will go directly to furthering WWF-Singapore's important tiger conservation work.
Alternatively, members of the public can also adopt a tiger at https://adopt.wwf.sg/species/tiger. These symbolic tiger adoptions from WWF-Singapore strengthen community efforts in tiger landscapes, monitor and safeguard habitats against poachers, reintroduce prey species into tiger heartlands, and advocate for an effective management of forests. Tiger Protectors will also help to protect the biodiversity, wildlife and natural environments around them. Members of the WWF-Singapore tiger adoption community receive exclusive updates from the field and invitations to meet and interact with conservation specialists and researchers, who work directly in the field.
WWF-Singapore's AR-mazing Tiger Trail is made possible by WWF-Singapore's partners, whose ongoing support enables large-scale awareness campaigns to support WWF-Singapore's mission to stop the degradation of the planet's natural environment and to build a future in which people live in harmony with nature.
More information on WWF-Singapore's AR-mazing Tiger Trail can be found on the website: https://tigertrail.wwf.sg/
#GETWILDFORTIGERS
-ENDS-
For more information, please contact Redhill:
Olivia Burton
+65 9083 0364
olivia.burton@redhill.asia
Sheena Koh
+65 9732 0102
sheena@redhill.asia
Victoria Mak
+65 9173 3801
victoria.mak@redhill.asia
About WWF-Singapore
WWF is one of the world's largest and most respected independent conservation organisations. WWF's mission is to stop the degradation of the earth's natural environment and to build a future in which humans live in harmony with nature.
As one of WWF's international hubs, WWF-Singapore supports a global network spanning over 100 countries. We work to meet key conservation goals, such as tackling deforestation and illegal wildlife trade, as well as promoting food security, sustainable finance, and sustainable consumption. For more information, visit wwf.sg.
---
ANNEX
Sculpture locations for WWF-Singapore's AR-mazing Tiger Trail: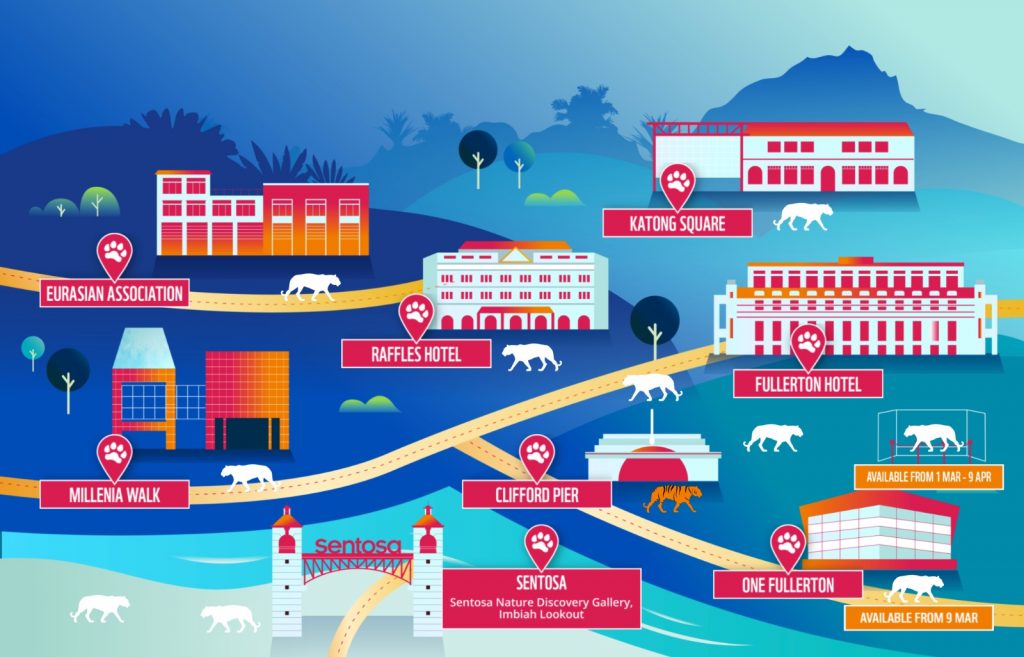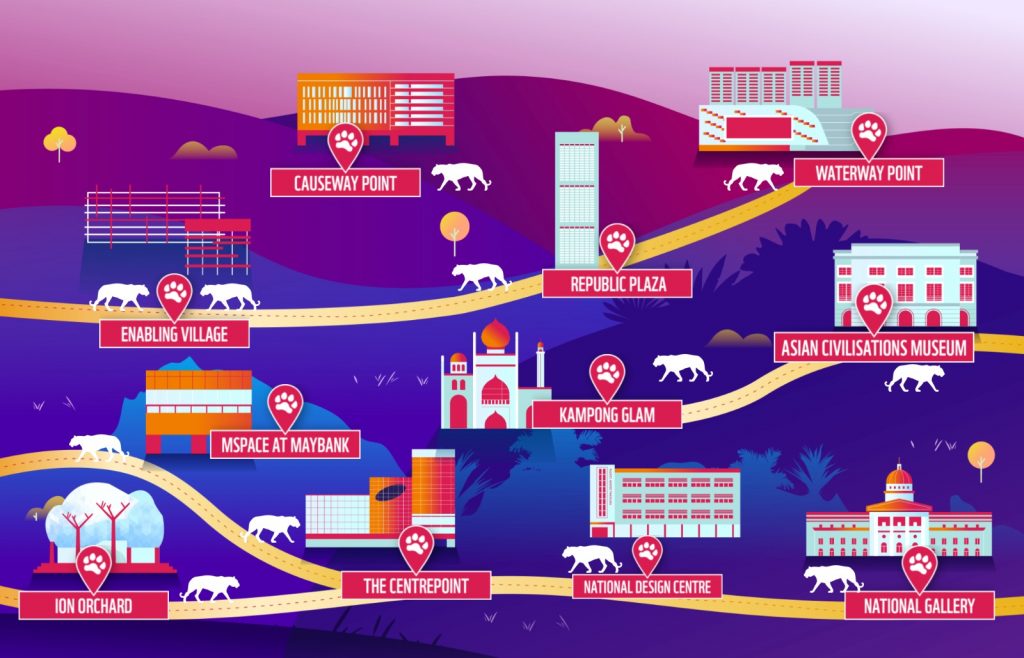 List of partners for WWF-Singapore's AR-mazing Tiger Trail:
Supported by
Singapore Tourism Board
Premier Partner
Tiger Brokers
Official Partners
B.Grimm
CMA CGM
Curated by
Westbrook Gallery Art Projects
Sculpture Sponsors
abrdn
Federated Hermes
Maybank
Raffles Hotel Singapore
Rakuten Viber
The Fullerton Hotel Singapore
Watsons Singapore
Official 5G Partner
Singtel
Official Solutions Partner
Tata Consultancy Services
Art & Community Partner
Temenggong Artists-In-Residence
Regional Freight Partner
DHL Express Asia Pacific
Local Transportation Partner
Asian Tigers Singapore
Transportation Partner
Pickford's
Auction Partner
Sotheby's
Media Partners
Mothership on Earth
tvN
tvN Movies
Merchandise Partner
Talking Toes
Merchandise Design Partner
Gilie & Marc
Jackson Tan
Sonny Liew
Rewards Partners
Shake Shack
Singtel Dash
The Black Hole Group
Paint Partner
Nippon Paint
Community & Venue Partners
Bukit Timah Saddle Club
Enabling Village
Community Partners
LASALLE College of the Arts
Nanyang Academy of Fine Arts
The Animal Project
The Art Faculty
TOUCH Community Services
UWC South East Asia
Venue Partners
Asian Civilisations Museum
Causeway Point
Eurasian Association, Singapore
Gardens by the Bay
ION Orchard
Jewel Changi Airport
Katong Square
Millenia Walk
National Gallery Singapore
Night Safari
One Kampong Gelam
Republic Plaza
Sentosa
The Centrepoint
The Fullerton Heritage
Waterway Point
List of artists taking part in WWF-Singapore's AR-mazing Tiger Trail:
ARTIST NAME
IMAGE OF SCULPTURE
DESCRIPTION
WEBSITE
Adam Dant (UK)
The Return of Tipu's Tiger

The idea behind this creation is to reinforce the notion that the tiger belongs in the safety of the wild and not the 'safety' of the museum.

http://www.artnet.com/artists/adam-dant/
Ashley Yeo (SG)
Tiger with Flowers

Featuring falling flowers over the tiger, the painted florals feature various species of endangered and rare flowers as a reminder to preserve the remaining landscapes for the protected flora and fauna. Once they are extinct we would no longer be able to enjoy their beauty.

https://www.instagram.com/ykashley/?hl=en
Bharti Kher & Subodh Gupta (India)


PULI

The artists collaborated by combining signature materials like utensils, the bindi and the tiger head made of fiberglass. This unique piece speaks of the artists' commitment towards art as a vehicle for social good.

Bharti Kher: https://bhartikher.com/

Subodh Gupta:
https://naturemorte.com/artists/subodhgupta/

Bukit Timah Saddle Club (SG)





Patches

The patches represent wildlife and how they are endangered today.


Henri Chen KeZhan (SG)
Tiger Mask

This hand-carved Blackwood Tiger mask reflects an image of strength, dignity, and worship for protection in Chinese culture. By uniting these elements, we can work together to preserve this magnificent animal, which is imperative in our ecosystem and civilization today.

Dave White (UK)



Tiger

Dave's aim was to create movement and a realistic quality to the work, whilst highlighting the scarcity and precious existence of these magnificent species.

www.davewhiteart.com
David Mach (UK)


Pussy

I like the way the Tiger's been modeled. Very lifelike and on the prowl. It's stealthy, just a light stalk, not really hunting just yet, not dangerous but very much a tiger being a tiger. It's a kid's height and it reminded me of being that size, a kid's size and it also reminded me
of how you behave when you're that size and age. You have way fewer inhibitions, you're free of those, you're not embarrassed to make noises as you go along, running or walking or whatever you're doing. We have to think back as adults and remember we were able to do that. It's almost as if we are able to provide our own soundtrack when we're kids and that's what my tiger is doing, it's a tiger, playing, stalking the undergrowth providing its own soundtrack with its grrrr's and it's roars and its purrs as
it goes along.


https://davidmach.com/
David Yarrow (UK)
The Queen of Ranthambore

It is very hot in May and the roads are not made for comfort. These are long days and the drinking water becomes warm by noon – even in a cooler. However, when encounters with tigers happen, they can be spellbinding. The tiger is the stuff of fantasy and fable and it is no surprise that they are many people's favourite animal. This mother of three is well known to the guides and because tigers feel the heat just as much as we do, watering holes in the middle of the day offered the best chance of meeting her in her territory. On this occasion, I was able to get very low and she confronted me head on. The shadowed ripples of water fuse with her stripes in a manner I could never have preconceived. The 98.5% of gruelling torture was made totally worthwhile by this special encounter.

https://davidyarrow.photography
Erin Lawlor (UK)



Tiger/going for baroque

This tiger is painted a deep forest green – the colour of the nature with which he merges – and mottled with the dark. His feet and underbelly are copper-tinged, reminiscent of the savannah. He is, above all, coated in an abstract mantle of
organic gestures, applied in gold paint with a wide brush. The brush-marks recreate a baroque take on the shifting beauty of the tiger's natural camouflage.

https://www.erinlawlor.com/
Faris Nakamura (SG)


Ghost Tiger

Ghost Tiger's name and stark whiteness is inspired by the ghost bike movement in which a
white bicycle is placed by the roadside, where a cyclist was killed or gravely injured by a motor vehicle. Emulating that movement, Ghost Tiger is intended as a memorial to the tiger that was shot in Raffles Hotel Singapore and all the other tigers that have lost their lives due to human intervention or poaching. Parts of Ghost Tiger's stripes float off its body, with patterns visually akin to smoke or wind depicted in Asian illustrations, accentuating its phantom appearance. It watches over Raffles Hotel Singapore, making it a symbol of protection. However, Ghost Tiger also serves as a solemn reminder to us that the tigers themselves are in need of protection.

https://www.farisnakamura.com/

https://www.instagram.com/faris_nakamura/?hl=en

Chen Yingjie AKA Hua Tunan (China)




Greatness and Tininess

My compulsion behind this creation was triggered by natural phenomena such as the forest fire in the Amazon and the global outbreak of the epidemic. The sculpture is designed as if the tiger is trying to break out of this severely unbalanced and adverse natural environment. The gold foils on the tiger's head and tail imitate cracks of the earth or melting glaciers, implying a chain of global environmental problems. The viewers may find that the protruding lines look like thorns that wrap around the tiger's limbs and the rest of its body. These "sharp thorns" are also shaped like genes, or like tiger's scars in an abstract way. Working on this tiger reminded me of the illegal tiger-trap tools and the thorn-like iron nets which I found in the forest with WWF staff. At that moment, an image of a desperately struggling tiger came into my mind. The tiger's feeling of pain was depicted in this creation.

Which direction are we heading in? The end of the world, or the end of nature?


Gordon Cheung (UK)


Fearful Symmetry

The orange tiger stripes are made of stock market numbers from a financial newspaper and the black stripes are from ink. The numbers represent Capitalism, connecting
exploitation of nature for financial gain against the 21st Century's urgent existential questions of how will we ensure survival of our habitat that relies on the ecosystems that
Capitalism has eroded the threat of collapse. The sculpture also playfully refers to the 'Tiger Economies' of Asia and it's title to William Blake's 'The Tyger'.

https://www.gordoncheung.com/
Ian Davenport (UK)


Chromatic Tiger

Ian has taken inspiration from his main signature works of controlled dynamic pouring of paint, mimicking tiger stripes. But his stripes are rendered in bright colourful, dynamic colours to emphasise its majestic unique beauty, contrasted against the black areas of absence and loss.
https://www.iandavenportstudio.com/about/
Jake Chapman (UK)


My extinction is just a precursor for your extinction

How do we address the false altruistic sentiments of those who oppose the extinction of 'exotic' specimens, whilst prolonging exploitation in other forms of human activity? Is the extinction of one class of animal worse than the domestic overbreeding of other animals for mass consumption? 'My extinction is just a precursor for your extinction' aims to remind us of this paradox.
Katun (Malaysia)
Rest in Paradise
An appreciation for the lost souls.
https://www.instagram.com/katun_
Ken Done (Australia)



Tiger lily, Tiger

Tiger

There are very few animals that nature has created that are as beautiful as a tiger.
This painting shows a rather cute version of the animal, and a soft, delicate flower. When there is so much sadness and bad news in the world, I want my paintings to bring people pleasure over time.


https://kendone.com.au/
Kumari Nahappan (SG)



XingXing

"XingXing" is painted in celebration with 2022 stars. This nocturnal animal brings in light in darkness with its arrival, creating an awareness with its presence.

https://www.kumarinahappan.com/
Liu Younian (China)



City Zoo

I often see them in different corners of the city, standing in different spaces in different forms. The city became their final destination. There is always a trace of gaze in their eyes, which is the doubt about the inexplicable existence in this world, the fear of being the food on the human plate, or the expectation of freedom, but also the desire for nature.

Mark Francis (UK)


Edge Of Forever

The idea behind this work is to highlight the vulnerability of our planet and to the life that exists on it. Humankind is striving to reach for the stars and beyond while at the same time forgetting the preciousness of what we have on planet earth. We are a jewel in an endless ocean of space and as far as we know…we are alone.
https://www.markfrancisstudio.com/
Mauro Peruchetti (Italy)



LIFE IS NOT A CIRCUS

Mauro wanted to portray a beautiful, breathtaking, regal species being humiliated and tortured by our
actions. The artist painted him red which symbolizes luck, joy, and happiness in Chinese culture.

https://mauroperucchetti.com/
Michelle Poonawalla (India)