The air we breathe, the water we drink and the food we need depend on one thing – biodiversity. With global biodiversity declining at rates never seen before, and the planet experiencing a climate emergency, it is ever more important to realize that nature is the critical foundation of a healthy planet.
For over a decade, Earth Hour has grown to be one of the world's largest grassroots movements for the environment that unites people around the world to show their commitment to the planet. This annual event has inspired individuals, communities, businesses and organizations in more than 180 countries and territories to take tangible action for the environment.
Nature loss matters. With Earth Hour, we seek to raise awareness on the planetary emergency and inspire action to reverse it. For a resilient and sustainable future, it is more crucial than ever for people in Singapore to stand in solidarity by putting nature at the heart of our society and economy.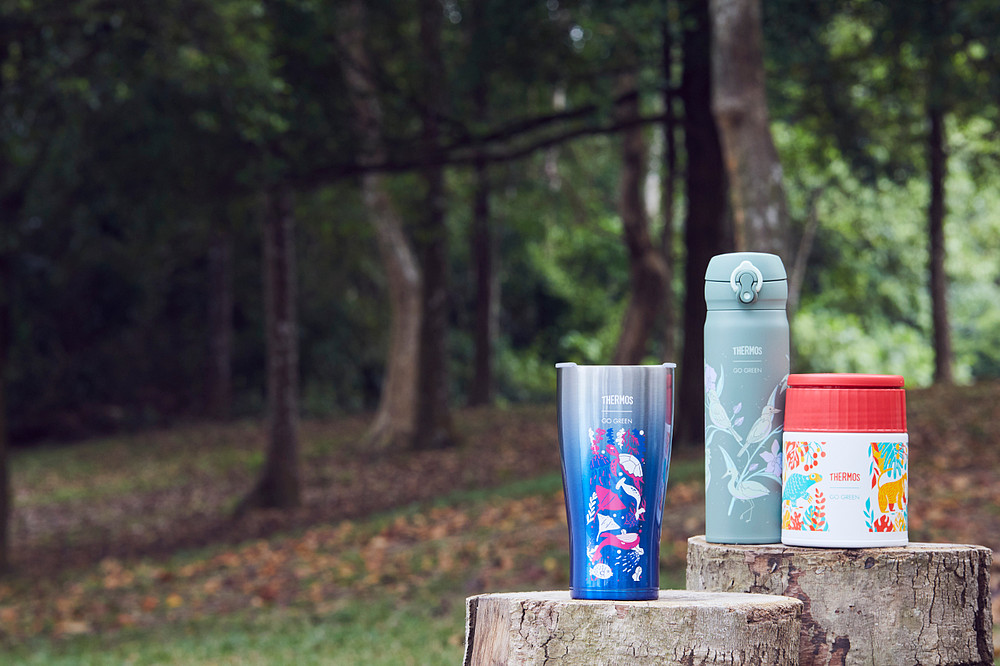 In support of WWF-Singapore Earth Hour movement, Thermos Singapore launched its latest edition of the Singapore Exclusive Local Design 'Go Green' series which aims to inspire people in Singapore to support the 'Go Green' theme by raising awareness to protect nature in an expressive and modish way. This comes together with Thermos® collaboration with Band of Doodlers (BOD) where homegrown designers Shana (@littlecorals), Paula (@paulalala) and Audrey Le (@audrey.le.art) create sophisticated illustrations of Singapore's beloved nature and botany on tumblers, recognizing the need to restore local biodiversity.
Aesthetics aside, Thermos® 'Go Green' series' packaging will also replace the usual poly-plastic bags with recycled craft paper for its products. To further reduce the printing of non-essential product sheets, each tumbler will see a QR code that directs consumers to learn more about the series. With every purchase of the 'Go Green' series product, Thermos Singapore will donate $2 to support WWF-Singapore's conservation initiatives.
"The zero-waste movement has been going strong in the world. Thermos® created the original reusable bottle and we continue to develop products that provide people on-the-go with more sustainable choices. We are proud to present this collaboration to showcase Nature's beauty, while encouraging everyone to take a practical step forward. Our flagship annual collection, the Singapore Exclusive Local Design, is among our best-selling collections. By bringing together our local talent who too share this vision for a better environment, and translating their visual masterpieces onto premium products, we hope to share this reminder for everyone to work together for a future that is worth protecting,"
– Takanori Oda, Managing Director, Thermos Singapore
"We are excited for Thermos Singapore to join the Earth Hour movement this year. Businesses are key to addressing our plastic pollution crisis and we welcome the efforts by Thermos Singapore to use recycled packaging material as positive steps that will contribute towards better use of materials and a circular economy in Singapore,"
– Kim Stengert, Chief of Strategic Communications & External Relations, WWF-Singapore
Features and Point-of-sale
From a one-push tumbler for drinks on the go, a tumbler cup for home or office use, to a food jar for meals and snacks, the series is available at major department stores and official Thermos®  E-commerce stores in Singapore (Shopee, Qoo10).
In support of WWF-Singapore and Earth Hour, Thermos Singapore will make a donation of $2 for every purchase of a 'Go Green' series product to support WWF-Singapore's conservation initiatives.
For more information on the 'Go Green' Series 2020, please visit www.thermos.com.sg, www.facebook.com/thermos.singapore or www.instagram.com/thermos_singapore.
If you're interested in exploring a similar partnership with WWF, contact
Mayj C. Tolentino
Head of Corporate Partnerships and Engagement ​
E-mail: mtolentino@wwf.sg